---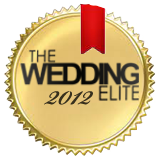 April 4, 2009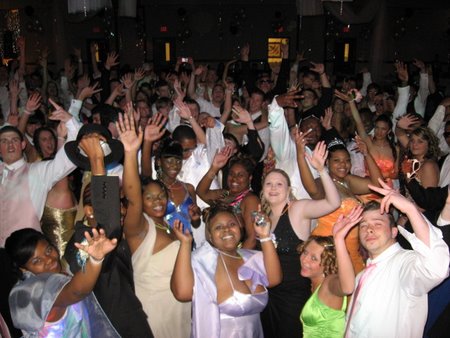 Just wanted to let you know so many seniors and dates who attended the DHS Prom loved you. So many said, ''Best DJ at any dance all year". You kept Dyersburg High School Prom rockin!
Lana Berkley Wood
Dyersburg High School Prom
---
January 17 , 2009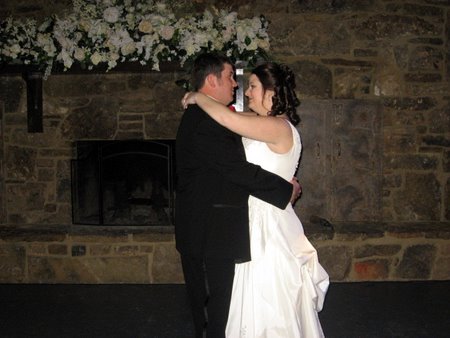 Special thanks to you----we had a wonderful time at Rachel and Mark's wedding. You did a superb job!!! Everyone had a great time and are still talking about how much fun they had. You were fantastic from beginning to end!! Everyone was asking where I "found" you because you were terrific. Rachel commented, "I couldn't have asked for anything more---it was perfect". I may have worked hard on wedding preparations---but putting you "in charge" of the wedding and reception was the best decision I made. You are a true professional!! Thanks for being part of our memories, and special thanks for the pictures----we will be seeing you again!!!!
Barbara
Ellis-Parham Wedding Ceremony & Reception
---
October 11, 2008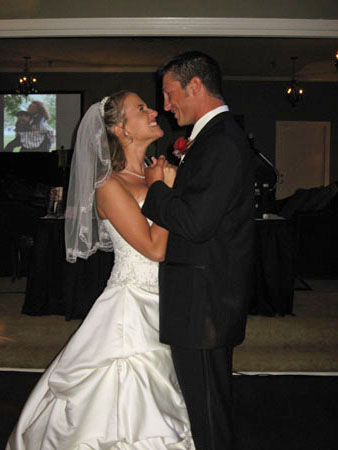 Dear Wes, I cannot begin to express to you the incredible job you did at Bekah's wedding. I cannot remember when I had more fun and when I saw my children have more fun. Bekah and Brian said all of their friends told them while they were getting pictures made back at the church, you were busy keeping the crowd entertained with great music and great magic tricks for the younger crowd! You definitely have found your niche. You are a professional who pays great attention to detail. You focused on making this night incredibly special for the newly married couple and I wouldn't think of throwing another party without you. Thanks for making our special night even more magical.
Tom & Sheree Montgomery
Montgomery-Kleck Wedding Reception
---
May 31st, 2008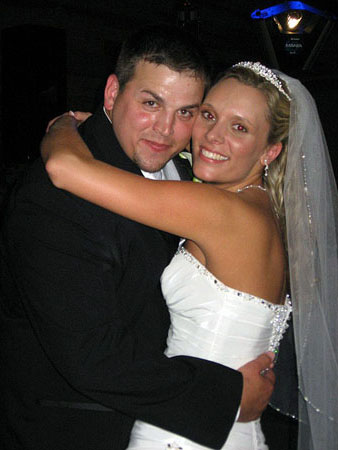 Hi!
Seth and I just wanted to tell you that you did a fabulous job at our reception!! It was a blast. Everyone has been complimenting you and asking who you were, so hopefully you will get a few referrals from it! Also, is there a way that I can get copies of the pictures that you took? I like your action shots better than the photographers!
But again, thank you so much. It was the best night of my life!
Jessica Bridges, Bride
Hershey-Bridges Wedding Reception
---
July 14th, 2007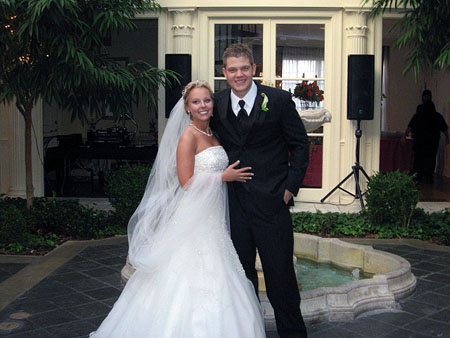 Testimonial from post-event survey:
I can't say enough wonderful things about the way you helped make this such a great reception. You were fantastic! You truly were a blessing to us. People are still calling me to say what a wonderful reception it was and how they didn't want to leave.
Thank you again for making this one of the happiest days of my daughters life.
PS. I still have another daughter who will marry someday & I hope you will still be around to help with her wedding.
Sandy Gruenewald, Mother of the Bride
Gruenewald-Gifford Wedding Reception
---
July 7th, 2007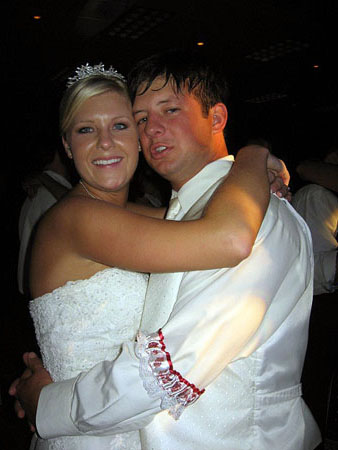 Testimonial from post-event survey:
Upon my daughter becoming engaged, I knew that the date of 7/7/07 would be the wedding date of 07. The first vendor I booked was DJ Wes. Over the years, I have attended several parties, weddings and banquets that DJ Wes provided the entertainment for including my fathers 80th birthday party! A band was not an option.
Due to the age of my children, we are attending many weddings. My daughter and I knew we wanted the party to be fun and entertaining for all there. We did not want to 'lose the crowd'. From the minute the first dance started until the last song played, the dance floor was full! DJ Wes lead the perfect party with very little speaking on his part.
Her wedding was everything we wanted it to be and she said if she had to do it all over again, she wouldn't change a thing!
Regards,
Leigh Anne Boyd, Mother of the Bride
Boyd-Anderson Wedding Reception
---
June 9th, 2007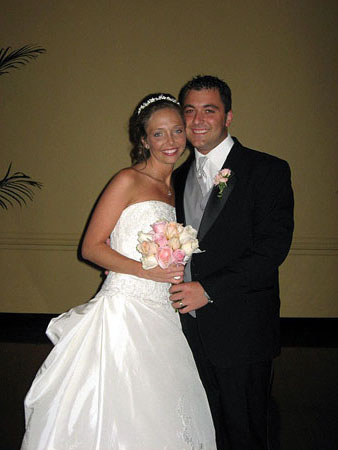 Wes,
YOU WERE WONDERFUL!!! Music was great and the fact that you took shots throughout the night meant we have memories of the entire evening...Photographer left around 11:00, so you got much after that! Wow! Pics are great also!!!! You captured so much we would never have thought to shoot! Thanks for being a swell and fun DJ! The YMCA part was the best! I wish we had done it earlier in the evening! What a blast! We will recommend you to all our friends. You were super in every way!
Kathie Bond, Mother of the Bride
Stine-Greenslade Wedding Reception

---
July 1st, 2006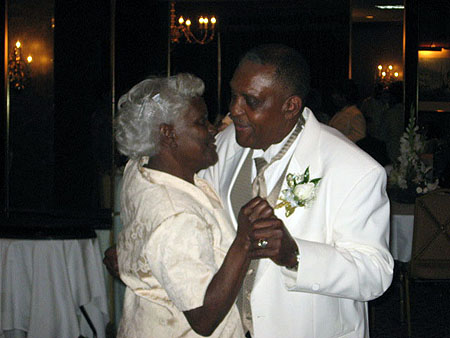 Hi Wes,
I just wanted to thank you again for a GREAT job. Our party was a huge success do in large part to your energy and enthusiasm.
Everyone had a great time and raved about the music and the entertainment.
Thanks again for making our event FUN!
Vida King
Velma & Clem King's
50th Anniversary Celebration
---
May 20th, 2006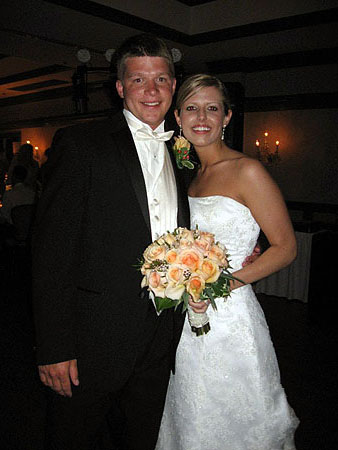 Wes,
Charlie and I wanted to let you know what a GREAT job you did at our wedding. Everything turned out just perfect and we feel that without you nothing would have been the same. People are still talking about the costumes and the fun they had at our reception. Thanks again for making our special day such a great success. We look forward to working with you again in the future!
Jessica Bagwell
Yarber-Bagwell Wedding Reception
---
May 5th, 2006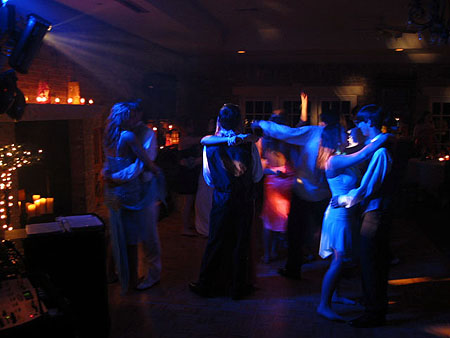 Wesley, what can I say? You did a fantastic job at our prom Friday night. Our kids had a fabulous time and it was due in large part to you and your music.
I have visited your web site to look at the pictures. Several of our kids looked at them over the weekend. They are absolutely awesome. I really appreciate the ones that you took beforehand, and the ones made outside. That gives our parents a great idea of how nice Bonne Terre is and what a perfect spot we had for our event.
You can be sure that I will recommend you every chance that I get, and will gladly use you again when I need a DJ. Best wishes to you, and thanks again from the Hickory Flat Junior Class.
Rochelle Thompson
Hickory Flat Prom
---
January 14th, 2006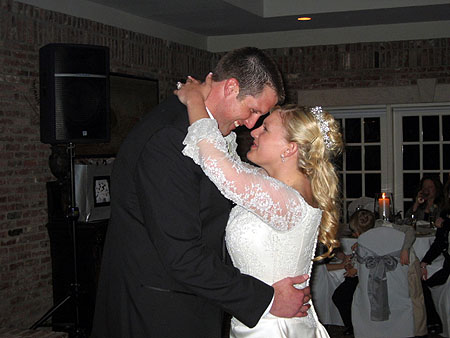 Wes,
...we were very pleased. Thank you for helping us out with the music in the chapel, last minute. That was a big help to us! And also, thank you for the unexpected pictures. They were great!
Diane Jones
Jones-Gray Wedding Reception
---
December 10, 2005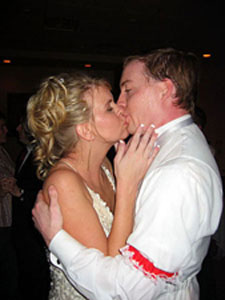 Testimonial from post-event survey:
Everyone said our reception was the best they had been to! A huge part of the success was because of DJ Wes. Before hand, he sat down with us and strategically planned the night. And at the reception his performance was brilliant - setting the mood for each part of the night and keeping everyone dancing all night long.
FYI: We even had one couple go home and get a babbysitter so they could come back and stay the whole time.
Thanks!
Cindy McRae
Parnell-McRae Wedding Reception
---
November 19, 2005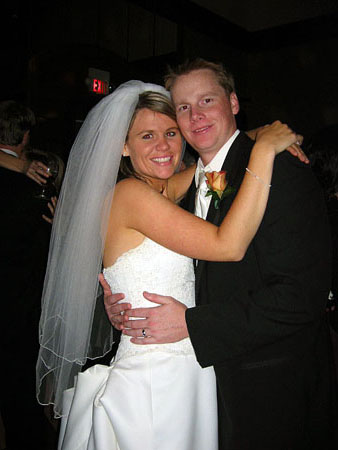 Wes,
Thanks for doing such a great job at Laura Beth and Kyles wedding! We had nothing but high praise from all of our guests on how you helped create a party atmosphere for all of our guests! That's not easy to do when you have a lot of different age groups among the guests, but you pulled it off! Again, thanks for making Laura Beth's and Kyle's wedding reception a huge success!
Ron and Debbie Whitten
Whitten-Scott Wedding Reception
---
May 21, 2005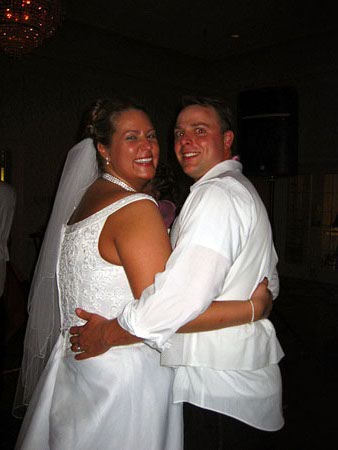 Thank you so much for making our wedding a success!! The music and pictures were wonderful!!!!!!!!! I will definitely recommend you to everyone I know. Everything was perfect.

Alisa and Troy Harber
Hensen-Harber Wedding Reception
---
June 19, 2004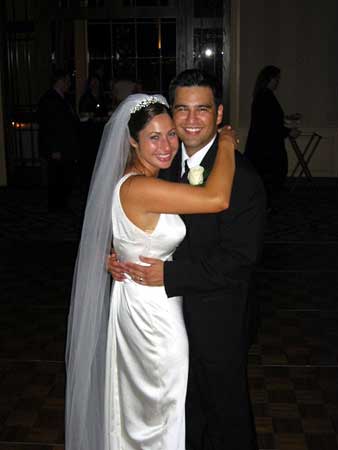 Wes,
Thank you so much for making our wedding fabulous! All of your help in the planning was greatly appreciated. You made sure the wedding went smoothly. At the reception you had everyone out there with music that everyone enjoyed. The deluxe package was a blast - the props were so much fun. Everyone commented on how great our DJ was! We just wanted to let you know how much we appreciated everything. Please use us as a reference if ever you need to convince someone that DJ Wes is the way to go.
Meduri-Reuer
Wedding Reception
---
May 22, 2004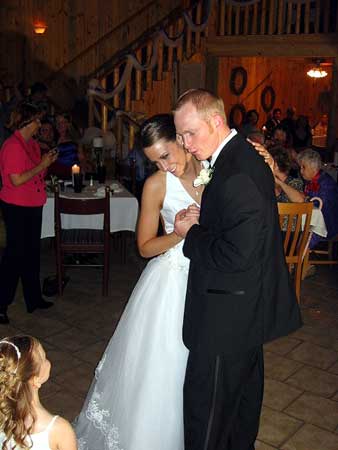 Wes, You da man!
I can't tell you how many folks were so very highly impressed and asked us, "Where did you guys find the DJ? He is working his tail off". We have been to other weddings where the DJ did nothing more than spin records. Thank you so much for putting the effort into making our event special. If anyone ever asks me if I know of a good DJ I'm going to tell them there is only one GOOD DJ in Memphis and his website is mobiledjwes.com.
Thanks again
Phil and Melissa Tillstrom
Wedding Reception
---
October 25, 2003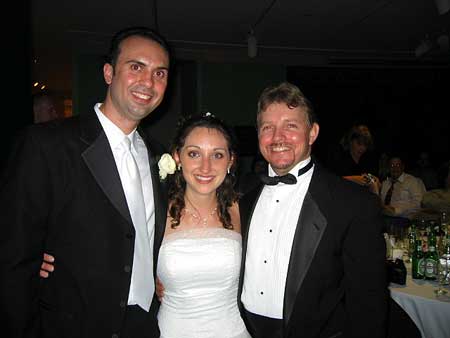 WES! HI!!

Wow, what a great reception we had!!! Thank you so much for everything!! You were fantastic as I am sure you could tell by the crowd! You had everyone up and dancing! Everyone had such a fantastic time...(Jason and I had the most fun of all!)... We saw our pictures on your website! Way cool! They are really great. You and your daughter did a great job with them! Thanks again for everything! You really made it a night to remember for us...We will definitely refer you to any and all of our soon-to-be-engaged friends in Memphis!!

Thanks again, and keep in touch!
Mrs. Karen Bowers
Wedding Reception
---
June 14, 2003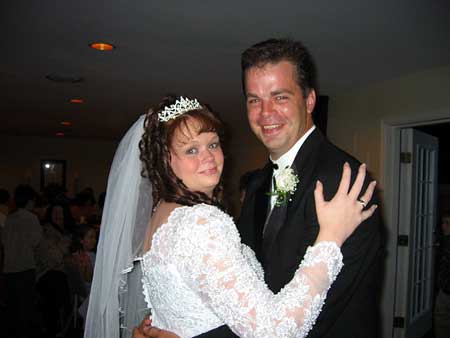 Wes,
You did an outstanding job. My family and friends have been talking about it for a week. Thank you so much for helping make our reception a complete success!
Chris and Shawn Walker
Wedding Reception
---
April 12, 2003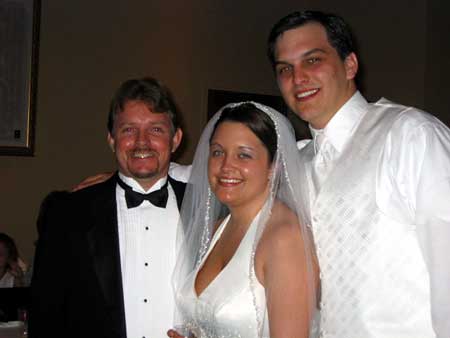 Wes,
THANK YOU!!!! THANK YOU!!!! THANK YOU!!!!
Thank you so much for the wonderful job at Sarah and David's wedding reception. You made the party. Sarah and David had a wonderful time and told me how grateful they were that I had hired you. You made their wedding reception a night they will always remember and treasure. I got numerous compliments on your services and I am so grateful for all you and your family did to make it a special night for everyone. The pictures on your web site are awesome.
Again, thank you for all you did and rest assured that I will recommend you highly.
Thanks.
Betty B. Ludwig
Wedding Reception
---
October 19, 2002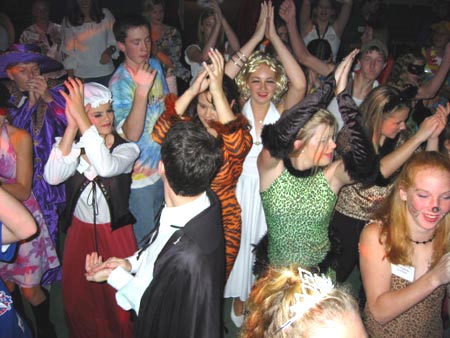 Dear Wes,
The evening was perfect! Not only did you make the evening a big success, you gave much thought as to introduce 2 games. Thank you so much!

The kids loved it!
Vickie Rollins
National League of Junior Catillions
Halloween Costume Dance
---
August 31, 2002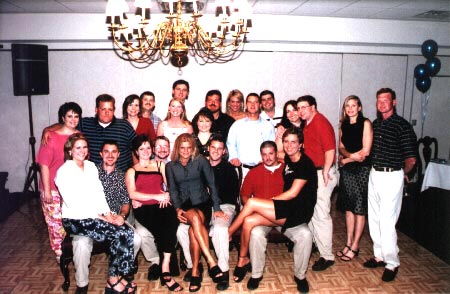 Wesley,
It was perfect and you are so laid back & friendly with everyone!
I have hired DJ's before, but they were overly uptight about their stuff. It made people uncomfortable. You are like one of the guests. That's cool.
Thank You!
Stephanie Bailey
Marshall Acadamy
10yr. Reunion

- Check DJ Wes' availability here -
---
---