DJ Wes' Promotional Wedding Video
Video is appx 7 minutes in length
(You may need to push 'play' twice to start video)
---
Typical Bride & Groom Introduction
Video is appx 1 minute in length
(You may need to push 'play' twice to start video)
---
First things first!
Congratulations on your engagement! As I'm sure you are already aware, planning the most important day of your life can be a very stressful thing. Afterall, you want everything to be PERFECT. You deserve the best and at DJ Wes' Mobile DJ Service, we strive to offer nothing less than perfection!
Perfection requires planning!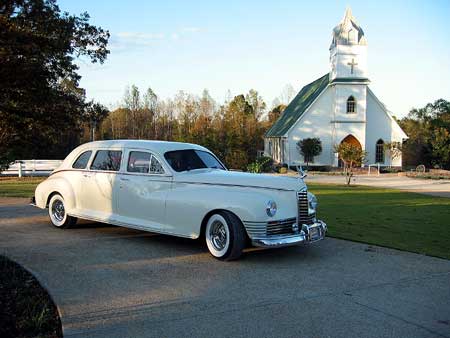 At DJ Wes' Mobile DJ Service, we will take the time to meet with you in advance, to help you plan out every detail of your wedding reception. When all the decisions have been made, you can look forward to enjoying your reception while we take care of all the details. We have a wealth of ideas and suggestions for you to choose from that will help you custom design every detail of your reception to fit your personalities, tastes, dreams and desires. We will ask you a lot of questions and gather as much information as we can. The more we know about your expectations, the better we can fulfill them. Also, the information we will gather from you about your family and your guests, will help us to connect with them and play music that will make them feel included as well. Finally, the planning meetings also allow us time to get to know each other on a more personal level. We recognize that you are entrusting the success of your entire investment in your reception to us! We don't take this responsibility lightly, but we are willing to take it, because we are very committed to offering the best quality of service possible. We like to think of our clients as much more than just our employers. We like to think of them as our friends.
Who will be the coordinator?
At DJ Wes' Mobile DJ Service, we believe in coordinating each and every detail of your wedding reception with the catering staff, photographer and videographer so that everything flows smoothly. I've heard it said that, "Your wedding reception is the Love Boat and your Disc Jockey is the Captain." That is actually a very good analogy, because your reception is not a food driven event or even a photo driven event. Those components are vital and necessary, but the entertainment is the driving force that guides you and your guests through the entire function. So, the person you decide to put in charge of steering your 'Love Boat' should be a 'Captain' with entertainment experience. The caterers are pros at serving the meal and serving out the cake and the photographer and the videographer have made getting just the right shot into an art form, but they typically have little entertainment experience.
'Capturing and holding the attention for an extended period of time'
Sounds like the job description for the person who should be in charge of your reception, but it's actually the Webster's Dictionary definition of 'entertainment'. Because your reception is an entertainment driven event, the most logical choice for filling the role of 'Captain' is the person who is running the entertainment. We've noticed that when even the smallest detail is forgotten, it can bring your reception to a screeching halt. When that 'stall' occurs, your guests will all look to the Disc Jockey for guidance, direction, or more often than not, for someone to blame. So, we have taken it upon ourselves to personally coordinate and double check every detail at your reception.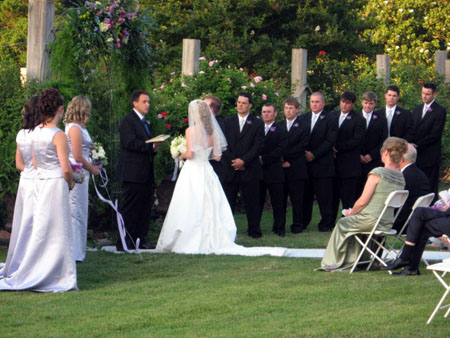 Wedding Entertainment Specialist
Even though we are disc jockeys in the traditional sense, we prefer to view our role as that of a Wedding Entertainment Specialist, because our focus is on directing the flow of your reception from the entertainment perspective. Wedding Consultants who help with the decorations and selecting the right wedding dress are fulfilling the role of a Wedding Producer. Their services can be extremely helpful, but are not to be confused with the role of a Wedding Entertainment Specialist. Does this mean we won't work with your coordinator? Not at all. If you have a coordinator for your reception, we will work with the coordinator as a team to make sure everything goes exactly as you have planned. However, most of our clients don't usually hire a separate coordinator for their reception, because they have come to trust our skill and expertise. If you would like to see our general checklist for all the details we actually coordinate, we will be happy to share that with you at our first appointment.
Master of Ceremonies
At DJ Wes' Mobile DJ Service, we believe that our Master of Ceremonies skills are extremely vital to the success of your reception. Have you ever been to a wedding reception and you missed the cake cutting because nobody announced it properly? Have you ever seen someone try to give a speech with a soft voice or a nervous tremble? Did you know that the number one fear in America is … public speaking? It's true! Finding a person who can speak clearly, eloquently and confidently in front of a crowd is not an easy task. Your guests need to be kept informed of every event that is coming up or is about to happen at your reception. When your wedding party is being introduced during the grand entrance, their names need to be pronounced correctly, no matter how unusual their names may be. We even go so far as to introduce each additional person who might be toasting after the Best Man's toast, because when the Best Man gets done, the crowd usually starts to talk amongst themselves. Then, if the next person toasting is not properly introduced by us first, the crowd will continue to talk at least halfway through the next person's toast. Another vital detail is recognizing that whoever is fulfilling the role of Master of Ceremonies at your reception, is also your spokesperson. Everything that person says and the way they say it will have a direct reflection on you from your guest's point of view. This aspect of our service is one we take very seriously. It is one of the primary reasons we believe in face to face meetings with you to plan your wedding reception. The time we spend together will allow us to get to know you in such a way that we will be able to confidently represent you whenever we speak on the microphone in front of all of your guests. Getting your guest's attention or making an important announcement that they will understand, requires a direct, clear voice and specially trained speaking skills.
That's Entertainment!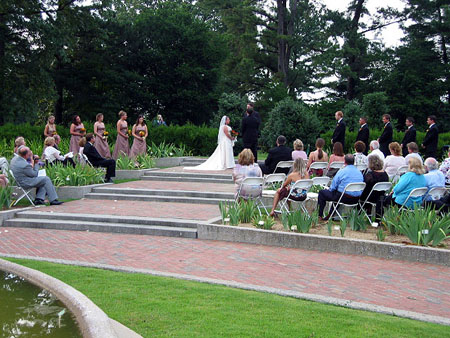 At DJ Wes' Mobile DJ Service, we know that the entertainment facet of a Disc Jockey service is the one people most commonly think of when considering hiring a Disc Jockey for their wedding reception. This requires the ability to read the crowd and play just the right music at just the right time to motivate your guests out of their seats and onto the dance floor. This entails finding the format and style of music from your requests and those of your guests, and then mixing them all together in such a way as to keep the dance floor full, while pleasing all age groups and varied tastes throughout your reception. This skill is definitely rare and extremely crucial if you want your guests to have a rip roaring good time. We never have to beg or cajole your guests out onto the dance floor. There are certain things we do that not only fill the dance floor, but keep it full as well. We believe the entertainment begins from the moment you arrive at your reception. We have created a vast collection of unique ideas that are designed specifically to help your guests feel involved in your reception while getting them into a party mood. Whether you want your guests to laugh, dance or cry tears of joy, we have the capability, the experience and the skill to make it all happen. Because … That's Entertainment!
Let The Music Begin
At DJ Wes' Mobile DJ Service, we are proud of our music library. We have the best dance and party music from every style and era. Our list of music features the most popular up-tempo and slow song selections from categories like: Big Band/Swing, Oldies, Motown, Soul, Dance, Disco, Rock & Roll, Alternative, and Country. We also carry a variety of group dances, like the Chicken Dance, Electric Slide, Macarana, Cha Cha Slide, Etc.. Chances are, we already have your favorite song, even if it's not on our list. If we were to give you a complete music list, it would be a novel. However, if a song you want for your reception is not in our library, we will gladly acquire it. Be sure to look at our list of standards, because there are certain songs we won't play. These are the kind of songs that would not usually be appropriate at a wedding reception anyway. Another feature we offer, is a list of music suggestions for the Ceremony and the Reception Events. Categories include: Processional Music for the seating of the Mothers, for the Bridesmaids and/or for the Bride. We have music appropriate for the Unity Candle Ceremony (if needed) as well as Recessional Music. For the Reception, we have great selection of songs appropriate for the Grand Entrance of the Wedding Party as well as the Bride and Groom. We have a great selection of songs appropriate for all the First Dances including the Bride and Grooms First Dance, Father/Daughter - Mother/Son Dance, Parent's Dance, Wedding Party Dance, Cake Cutting, Bouquet Toss, Garter Removal and Toss as well as the Last Dance of the evening. We will be happy to show you these music lists at our first appointment.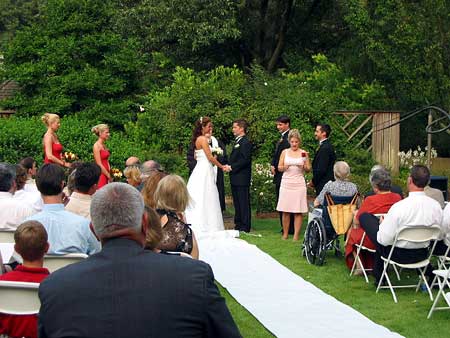 Highly Recommended
DJ Wes' Mobile DJ Service comes highly recommended by many other wedding professionals including photographers, wedding coordinators and venue managers. DJ Wes' Mobile DJ Service is proud to be a preferred entertainment vendor to Bonne Terre and Ridgway Country Club. We highly recommend them as their facilities and catering are second to none! DJ Wes' Mobile DJ Service also highly recommends Russell Hayes or Shane Carr for all your photography needs.
We certainly hope that the information above will set your mind at ease about using DJ Wes' Mobile DJ Service as your entertainment provider!
As an added convienience for our potential clients, we have provided an online wedding entertainment agreement that can be viewed and printed. Simply fill out and mail to address shown on contract. We will review the contract and complete our portion. Make sure the address you provide is correct (thank you) and be sure to make yourself a copy.
This in no way legally obligates or commits you to our service. Until you SIGN the completed form and mail it with your deposit, it is not a binding contract. If you do want to lock-in your date as soon as possible, go ahead and mail the deposit along with the contract! Be sure to sign it as well (thank you). If you chose to do this, please call ahead to confirm pricing and availability. Again, congratulations on your engagement and we look forward to meeting with you to discuss your very special day!
Click here to view and print our online wedding contract
If you do not have Adobe Acrobat Reader, click on logo below: